Wednesday, 11 April 2018
Recommended Reads for April...
Grades 5-6
Dragon bones (Unwanteds Quests #2) / Lisa McMann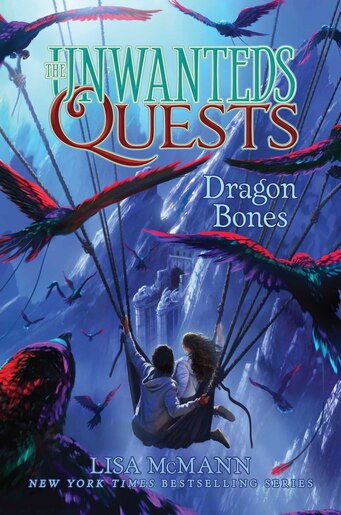 After years of peace, the recent daring adventure of twins Thisbe and Fifer Stowe have brought about dire consequences. Thisbe has been captured, Fifer is injured, and Sky is lost at sea. The twins' older brother Alex, head mage of Artimé, is paralyzed with fear of losing anyone else he loves. Fifer must convince him to finally trust her to help in the battle ahead now that their true enemy has been revealed.
Meanwhile Thisbe is trapped underground in the catacombs, where the ancient dragon rulers are buried. Along with fellow prisoners, Thisbe's job is to transport dragon bones from her crypt to the extracting room, where others extract the magical properties dormant in the bones. When it appears no one is coming back to rescue her, Thisbe must train in secret, trying to learn how to control her fiery magic and use it to escape. As her situation becomes more grave, she might even have to align herself with the ultimate evil. (GoodReads)
Monday, 5 March 2018
Recommended Reads for March...
Grades 5-6
The magic misfits / Neil Patrick Harris
When street magician Carter runs away, he never expects to find friends and magic in a sleepy New England town. But like any good trick, things change instantly as greedy B.B. Bosso and his crew of crooked carnies arrive to steal anything and everything they can get their sticky fingers on.
After a fateful encounter with the local purveyor of illusion, Dante Vernon, Carter teams up with five other like-minded kids. Together, using both teamwork and magic, they'll set out to save the town of Mineral Wells from Bosso's villainous clutches. These six
Magic Misfits
will soon discover adventure, friendship, and their own self-worth in this delightful new series. (GoodReads)
Recommended Reads for March...
Grades 7-9
Fourth dimension / Eric Walters (Rule of 3)
Fifteen-year-old Emma has moved house with her ex-Marine mother and younger brother. It's a brand-new condo building, which explains the semi-regular power outages, as workers complete the units around them. So Emma isn't particularly concerned when the latest blackout hits just as they are preparing to leave town on a long weekend camping trip. But then the car won't start, and their cellphones appear dead -- and all the cars outside their building seem to be stalled in a long traffic jam ...
In the midst of what appears to be a massive power outage, with their camping gear packed and ready, Emma and her family canoe over to the islands, just offshore, to wait it out. But while they land on an isolated island, with a relatively hidden site, they are far from safe, as people become increasingly desperate to find food and shelter. And as the days pass, and the power remains out, the threat of violence becomes all too real. (GoodReads)